Jehangir is remembered in China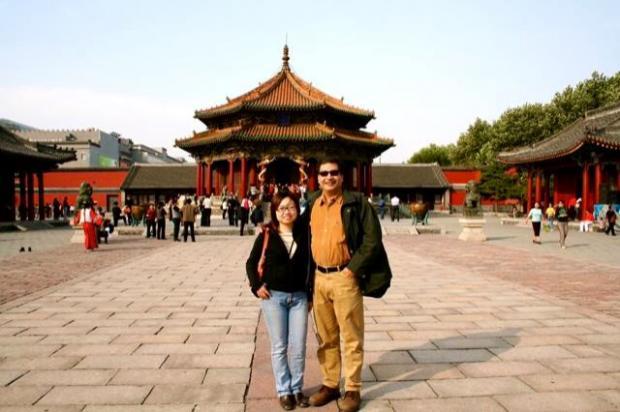 Jehangir is remembered in China
You smiled, just like a sunflower, so warm and positive, passing that spirit of yours to everyone who was lucky to come across you. You are a sunflower all along.
By Wu Nan
I first met you in April 2003 for a job interview. You had just started writing for the Boston Globe in Beijing and needed a researcher. You ended up hiring me despite the fact that I was just a newly graduated engineering student and my English was not fluent.
You said you chose me because of a few questions and answers.
"Jehangir, what does your name mean?"
You explained that it was the name of an ancient Indian king. Then you asked me, "Could you give me a Chinese name. I'll need it for reporting in China in the future. People may not know how to pronounce my name."
After some thinking, I recommended the name Bo Hanjie(博汉杰). Bo sounded like your last name "Pocha." It means knowledgeable in Chinese. Only later did I know that you were a graduate of Harvard University. So it was a nice fit. Hanjie sounded similar to your first name.
It literally translated as "the excellent one among men." Jie alone means hero, just like your Indian king was.
You loved the name and asked me to write it down. In fact, soon afterwards you used it to register for your press card with the Chinese foreign ministry. You told me that the registration officer said your Chinese name was so "heroic."
Thus you became known in China as Bo Hanjie, and you will be remembered as Bo Hanjie, by my family, by your cleaning lady and by the hundreds of Chinese whom we interviewed and wrote about for more than three years.
Your reputation soared as we did many in-depth and unique stories on China. I can still recall some of them.
In Autumn 2005, we interviewed Zheng Bijian, the former director of China Reform Forum and a senior advisor to the Chinese leadership, who was known as the one who coined the term "China's peaceful rise."
I was a bit stressed out because he was almost the highest-ranking Chinese officials we could do long interviews face-to-face with, and I had to do spontaneous translation. I had a week ahead to prepare, absorbing all the media reports and talks by Zheng, and grasping many political terms.
At the interview, I was stuck by what a tough man Zheng was. Sometimes, his piercing eyes made me sweat. But your composure calmed me down. I could feel your complete trust in me and carefully listened to every word I was translating.
That interview with Zheng turned out to be a great success, and the story was distributed widely. As hard as it often is to satisfy both the readers and the interviewee, Zheng's secretary called later to say that they liked our reporting after studying the Chinese translation of the story.
That was not the only success. What you wrote about China and India's soft-power race, Professor Joseph Nye quoted in his well-known book "Soft Power." I met Nye last October in Cambridge, Massachusetts. He still talked about you and that story.
You've written so many stories. I can't name them all at once. What I can recall more
vividly was the reporting trips we had together. A lot of times, I felt you went beyond the role of a mere reporter by paying such sincere, human attention to your interviewees.
In late 2005, we went to interview the families of union leaders who were put in jail for organizing protests and fighting against government-led reforms shutting down state enterprises. Although we were cautious to change meeting places every hour, a police car was following us when we finished the interview and boarded a taxi.
There were rumors about how police would use violence against reporters. I was panicking, and I remembered using the F word for the first time in my life. But you were more worried that the families we had interviewed might get into trouble. I didn't know what to say, but I remember feeling you are a greater person than me, putting others before yourself in the face of potential danger.
Luckily, we lost the police tail after we drove into a place of interest near the train station. We hid ourselves among hundreds of tourists. In half an hour, we hopped on the latest train to Beijing. It was great relief when we called the families later and found out that that the police were harassing them.
I saw you cry once. You went to report in Sri Lanka after the 2004 Indian Ocean tsunami. When you returned weeks later, you looked diminished and sad. But I was still caught by surprise when you burst into tears while describing interviews with people there.
You said there were too many tragic stories of people losing their loved ones. Still, they would come to reporters hoping that getting their stories out could help them find their loved ones. Although you could not write down all of the stories, you just stayed and listened to their stories. "They had to talk to someone," you said.
You were not just kind to interviewees. Your cleaning lady Hou Jinrong has adopted a daughter who was abandoned. She wanted to support the child to go to school. For years you had aided them along with other reporters. Even after you moved back to New Delhi, you asked me to bring them money when I visited India in 2008 and 2009 for work.
Hou has admired you for everything you've done to her family since 2003. Most importantly, she says felt respected by you that you treated her equally like a friend instead of someone who served you. She asked me to bring a hand drawing of her daughter, Jiajia as a thank-you gift in 2008.
The next time I saw you, it was hung up side-by-side with your own nephew Reyhan's painting at your office in Noida. It could always cheer you up when we talked on the phone about Jiajia being one of the top students in her class. And you told me many times that you longed for building your
own family and having children if possible.
Your marriage with Ranjana, the bonding relationship with Adi and the births of your twins, Naira and Darius was like a festival celebrated by people in China who loved you dearly. During Lunar New Year in 2013, I showed the photos of your newborn to Hou, my parents, my sister, whose
wedding you attended in 2005.
All of us couldn't stop talking about how adorable the babies were and how much they looked like little Indian prince and princess. Our last Skype call was about two months ago when you told me about how your children had changed you from inside and how happy you were. I felt it for you.
Still, I am the one who benefit most from your work and friendship. When I had easy satisfaction working as your research assistant, you told me not to lose the big sight in career and life. You said that you believed in my potential and I should consider pursuing graduate study on journalism in the United States and to develop a career of my own.
I received admission from U.C. Berkeley in 2006. You appeared even happier than my family, who were more concerned about how I would survive in strange America as a small Chinese girl.
You gifted me a Toshiba laptop, which was my first laptop and the most expensive present I ever received from a friend. In fact, for years you had already become my big brother, always being there for me, looking out for me, cheering for my successes and lifting me up when I was defeated.
I shed tears when we finished our last interview about Chinese luxury goods for The Boston Globe on Wangfujing Street in downtown Beijing before I went to California. But you joked about not dating too many American boys during my study. It left a smile on my face.
You supported me unconditionally for every big choice in my career and life. You wrote me a key recommendation to get the 2012 Nieman Fellowship at Harvard.
Finally, we became alumni as you graduated from Harvard Kennedy School in 2000. You told me your favorite bar at Harvard Square was the Casablanca and LA Burdick was the best hot chocolate place. As always, you were the gourmet, loving the Chinese green tea, Dragon Well, the red-cooked ribs and spicy Sichuan green beans.
It had been a habit that we would chat on Facebook or Skype every few months about work and our lives. I can sense your extreme fondness of your wife and your commitment and endless love for your three children. You are especially an inevitable loss to them and other family members.
It pains me to remember when you liked my recent Facebook photo in which I dressed up as cheerful bride maid at a friend's wedding in June, I thought that I'd love to have you sit at my own wedding one day. I regret that it will never happen.
When I heard from friends about the horrific news of your collapse on Saturday and read all the mourning messages and condolences from the families and friends, it cracked a huge hole in my chest, filled by emptiness which could never be fixed, ever.
I kept on picturing you lying still, with white linen on, and your cold face without a smile. That image broke my heart into pieces. I can't breathe. I can't sleep.
I had to force myself to think about another image. Years ago I saw you wearing a bright orange shirt, which struck me that no man I've ever known would wear that color. I remembered that we discussed whether it was too bright color for a man. But you said that you liked bright color because it was so warm.
I'm going to keep that image of you in my memory: you in an orange shirt, smiling. You smiled, just like a sunflower, so warm and positive, passing that spirit of yours to everyone who was lucky to come across you.
You are a sunflower all along, Jehangir.
Bio:
       Jehangir S. Pocha, the founder and editor in chief of NewsX, a leading television news channel in India passed away on July 12, 2014 in Gurgaon near New Delhi after he suffered a massive heart attack. He was 46.
Previously he worked as the editor in chief for Business World, the largest financial magazine in India, when he tried to build a tie between Chinese and Indian journalists including to launch an exchange program with Caixin Meida. Between 2003 and 2007 he was the Boston Globe's Beijing and Asia correspondent.
He was a M.P.P. student of HKS Class of 2000 at the Harvard Kennedy School (HKS). During his time spent at HKS, he found his new passion in life and devoted himself to public policy and journalism, instead of following an earlier career as an Internet business manager. 
After graduating, he had reported on some of the most powerful Chinese politicians including Zheng Bijian, a principal advisor to Chinese presidents. His special reports on China and India's soft power race was highly regarded by world-renowned experts including Professor Joseph Nye. 
Back in India, he lead his news team to tackle some most controversial social and political issues including sexual violence against women and election fraud.
Jehangir was born and grew up in Mumbai, and lived in the United States for more than a decade. He was survived by his wife Ranjana, son Adi and twins Naira and Darius. 
推荐 10
  财新博客版权声明:财新博客所发布文章及图片之版权属博主本人及/或相关权利人所有,未经博主及/或相关权利人单独授权,任何网站、平面媒体不得予以转载。财新网对相关媒体的网站信息内容转载授权并不包括财新博客的文章及图片。博客文章均为作者个人观点,不代表财新网的立场和观点。